Key data on the business: We have been around for 300 years and the business is currently run by two families, two owners. Half of it belongs to Dr. Aigner, who is distantly related to me, and the Tomaselli family. Unplanned, I have been here in the transition process since 2009 and in managing ownership since 2011. It was unplanned that I am active in the background in a responsible position in an SME. Professionally, I am at home in medicine. I currently work in Linz at the Kepler University Hospital and at the Wels Hospital.
To start with: what is your favourite coffee or drink in the café?
Espresso.
When you talk about Viennese coffeehouse culture, you get different answers from different people. What do you think is the core of Viennese coffeehouse culture and what makes it so special?
I think one thing is certainly the lived tradition. The second is, of course, the liveliness of the culture of togetherness, of serving. On how do you interact with guests. It is part of Austria's identity, it has grown historically and originated in Vienna.
You have already mentioned some of this: If you, for example, talk to a person from northern Germany, Viennese coffeehouse culture is often not a concept. Why do you think Viennese coffeehouse culture has established itself in Austria on the one hand, and on the other hand, is it part of the Austrian lifestyle?
I very much believe that it is part of the Austrian lifestyle. After all, a cafe  should be cosy. People should feel comfortable and secure, and it is a place for social interaction. But it is also a place of calm – for instance, the place where we are sitting now is a place where we can talk in peace. It's a mixture of everything, but at the end of the day, people should be satisfied, go home happily and be willing to come back.
Do you think that in times of fast-moving life, such as the internet and smartphones, the coffeehouse culture has been devalued or lost to a certain extent?
On the contrary: When one observes the development of the last 10 years, one can trace it very well. From our perspective, there is rather a strongly increasing trend in this gastronomy sector. Because at the end of the day, the concept has to be right, the products and the price have to be right.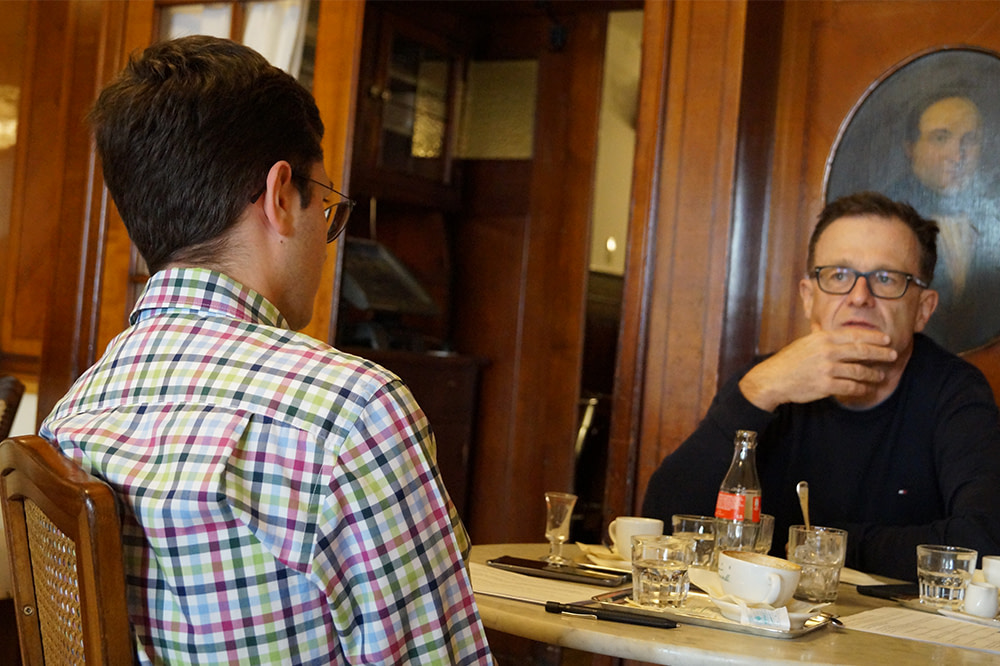 More specifically about Viennese coffeehouse culture: How has coffeehouse culture developed specifically within the last 100 years?
I observe in Vienna as a guest that the coffeehouse culture is very constant in change. Although change does occur, it is an extremely slow process. Of course, we also make sure that we can continue to develop while at the same time preserving traditions. There is definitely a positive development, albeit a slow one.
On the one hand, it's about change, but at the same time you should keep the traditions. Ten or 20 years ago, cappuccino would have been unthinkable in a Viennese coffee house. That has become established over time. How can they keep the balance?
In a coffee house, you always have to get back to the core. It is and remains a coffee house. Of course – and this is the soul of the business, so to speak – you not only have to observe developments carefully and yet attentively, but also react to them. And if there is a need for change in the café, then you have to follow suit – like with the cappuccino, for example. Ultimately, we want satisfied customers with products they want.
Where would you then draw the line between preservation and innovation?
Regardless of digitalisation, you should always work on the service and the product. You should never let up here. I think that this interaction between guest and service has to work, and it should still work on a humane level. It is very difficult for me to imagine going to a coffee house like Tomaselli and selecting my order via a digital gadget and paying my bill via a scan. That is a part of social interaction that, in my view, must remain. And the need for it is just as great. That is something we consciously afford. Of course, we could optimise everything, initiate unimaginable digitalisation processes and increase the revenue even more, but I think it needs the social interaction I mentioned. Just as we sit together in this conversation and are served by a person who shows a basic empathy.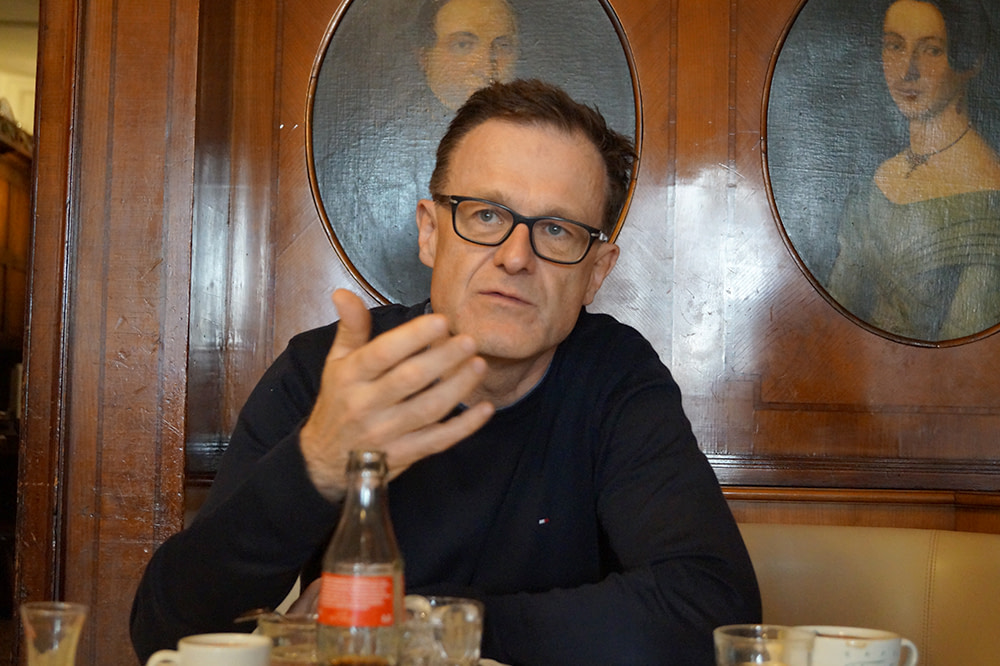 Which influence do you think the establishment of the very modern coffee shop chains have on the development of traditional cafés?
For us, they have little or no influence. Of course, I am observing the history of Starbucks: it is highly interesting, but it has hardly any significance for us, also in the sense of competitive rivalry. These are two completely different approaches. When I go to Starbucks today, I have a completely different need than when I go to Café Tomaselli. At Starbucks I want a high-quality coffee to go as quickly as possible, and here I want to go in and sit down.
Café Tomaselli is the oldest coffee house still in operation in Austria and one of the oldest in Europe. Does that give you a special responsibility as a figurehead for Salzburg?
Basically, one always bears a responsibility for ownership. That is something fundamental. Quite simply, it represents a certain value that must be preserved. That is the owner's point of view, completely de-emotionalised. On the other hand, when you go to the next level, you can see that, soberly speaking, the business activity generates profits. So it's a matter of being profit-oriented, because otherwise I can't preserve the value and on the other hand I can't remunerate the employees. Apart from that, there is an individual approach: namely, preserving tradition, coherent tradition. I think we have succeeded quite well in this in Salzburg.
If you look at coffee houses in general, they had a different function 200 or 300 years ago – such as for coffee house literature or the composers who worked in coffee houses. At that time, it was profitable to go to a coffee house, drink a coffee and be inspired. According to your observations, how has this trend changed? You can also translate it to the current time: Are coffee houses still haunted as a source of inspiration and do people still work in coffee houses?
That has changed completely. In individual cases, there are people who work in the coffee house, but the majority are here to relax, have a good time and enjoy themselves. Productive work is not so much the focus here. Of course, what can be observed in other European cities is that online-related activities are on the rise. But we'll see if that's the right place for it. I would not exclude the possibility of going in, finding a secure network and "working".
After the Second World War, the coffee house was briefly an American coffee shop among the Americans. Did you take something with you from that time, or was there even the idea of continuing it that way?
It was briefly a military hospital and then used by the Americans during the occupation and liberation period. We got it back relatively quickly and, interestingly, it was still American over in the kiosk. Not much of the idea remained, but the time is not negative. The dealings between the occupying forces and the owners were very fair and open, as I have heard from stories. Nothing was stolen or deliberately destroyed. Fortunately for us, things were very humane.
Café Tomaselli and Café Sacher are often the centre of attention when there are events in the region, such as the Salzburger Festspiele. Is it a special time?
Absolutely, the Salzburg Festival is a time of maximum activity and not only the whole city but also the business is running at full speed. Of course, we know exactly what it means – in terms of organisation, but also in terms of staff. It's about manpower, for example, so that we can successfully meet the challenges.
Do you see a difference between a local consumer and a tourist?
These are two very different worlds when it comes to needs and that is the balancing act we have to manage. On the one hand, we have the regional Salzburg guest who spends as much time as possible here undisturbed. On the other hand, there are national or international guests who are here for a short time. These are different approaches that we naturally have to reconcile. And that is of course particularly difficult to control, so that at the end of the day the quality of service does not start to suffer. We want to serve everyone in the best possible way and that is currently possible. But we don't know what it will be like in two years when the number of visitors is higher again.
If you continue the story: Do you think that this overtourism is devaluing coffee house culture to a certain extent?
I wouldn't say devalue, but it can endanger the whole thing, because it takes a certain amount of time and calm. There are always dangers here, because the question is how to control the flow. Here we are always challenged to meet the unbelievable pressure of expectations and to show limits and say "We're sorry, we can't do it any more. We have no space, we can't serve you." Of course, this often leads to disappointment scenarios. A mixture would be desirable and perhaps a lesson of the Covid pandemic is that mass tourism is better managed politically.
It can be observed that there are differences in consumer behaviour between locals and tourists, such as the time factor, but are there also trends between the locals themselves?
This can not only be observed, but also measured. We observe this by following trends and we also take our time in assessing trends. After all, it's not meant to be short-term, but rather medium- or long-term. To give you an example: We have switched to regionality. The products we produce are regional. We try very hard to buy products from the surrounding area. The milk, for example, must come from Berchtesgaden at the most. With fruit, too, it is important for us to have the shortest possible distances. This is often more expensive, but we knowingly accept this. Regionality, for example, is a trend, as already mentioned. Another trend is that there are changes in dietary behaviour per se, and that is also a factor.
We have been living with the Corona crisis for over a year and are now allowed to sit inside again. Nevertheless, it is noticeable that the tourists in particular have disappeared and we currently only have local guests. How did Café Tomaselli fare last year?
Of course – due to my core profession, as I sit on two forward-looking committees – we recognised the developments early on. Already at the end of February (2020) and the beginning of March, it was quite possible to develop scenarios in which serious developments in the pandemic were taken into account. This also came true in mid-March and we were relatively quickly and well prepared for it. It was good for us that we took it seriously from the beginning. Of course, it was a great help that the short-time working model (Kurzarbeit) came into effect. Planning ahead naturally simplified the whole process. The turnover compensation payments that we took advantage of also made the whole thing a lot easier. What we haven't done so far is to demand fixed costs, which we will probably do without, because otherwise we would drift into a certain dependency, because the business is and remains more autonomous.
Where do you see the biggest challenges for the business, especially in times of openings, where there will be an increase in tourism in the next few years?
A very important challenge will be to ensure that we can provide the best possible service under these conditions. The conditions are the way they are, they are federal regulations. The long-term challenge will be to think even more ahead. "How does it evolve?" This whole industry has fallen out of a very pampered situation. Many of us are in a crisis mode. And from that crisis mode, you have to calmly identify trends, get the businesses back in shape and not rely on the city being flooded with tourists again. That will take time and I personally hope that it will not happen on such a large scale.
Finally, where do you think coffee house culture will develop further, or where do you want it to develop further?
Using the example of Tomaselli as a representative of coffeehouse culture, the goal – if you can plan it – is to continue to develop from the basic concept into the next generation or generations. We will see if we succeed, but the idea is that we stay true to that, that we have a basic responsibility, as you mentioned, and that we can maintain the level. Not only in terms of business management, but in terms of all these quality parameters. I am relatively confident.
We thank Florian Tomaselli for the interview.